"If you buy one CD set this month or, for that matter, over the next twelve, you should consider A European Odyssey, A remarkable musical adventure with the London Schubert Players."  --- from a Composition:Today review of the CD set, which includes Waschka's Winter Concerto.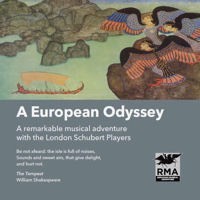 The recording of Waschka's Winter Concerto by the London Schubert Players chamber orchestra with Huw Morgan trumpet soloist has been re-released on the prestigious Nimbus label (England) as part of a 3-CD set, "A European Odyssey" (NI6195). The re-release package, which presents seventeen selected compositions (fourteen new works and three older works by Mendelssohn, Saint-Saens and Enescu) from the original set of Invitation to Composers recordings, has been named "Record of the Month" by Composition:Today.
Pianist Anda Anastasescu founded and serves as the Artistic Director of the London Schubert Players. The recordings were part of a London Schubert Players project called "Invitation to Composers", which featured thirty-five new works performed and recorded on seven CDs. That project was supported by the European Union Culture Fund,  the London Schubert Players Trust, the Lionel Tertis Foundation of London, and the Romanian Cultural Institutes of Paris, and London, among others.
The original set or recordings has also been reviewed by Peter Grahame Woolf for Musical Pointers. More information on the original RMA release of this recording can be found here. Information on the premiere of Winter Concerto in London can be found here.